Well helloooo there! It's been a long while since I wrote something down here. How've you been? I've been a bit distracted to say the least, lol. Keep reading and you'll find out why.
If you've been here checking to see if I've been writing anything, you might wonder, does Lee-Anne go fishing a lot? Is that where she's been?
You know what's funny? Since I redesigned this blog and put the focus on adventure it may look to you like I'm all into fishing but it's actually not true…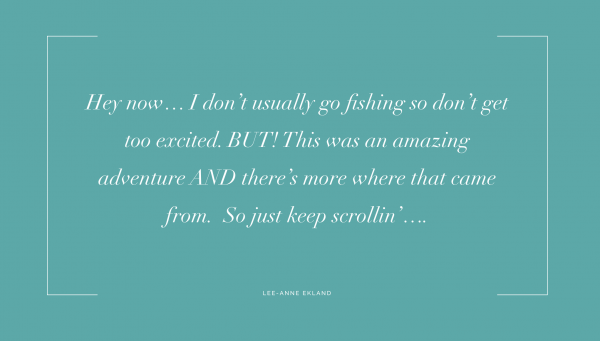 When I was deciding on just the right photo to feature on the main page of this site, I reckoned back to one of the most memorable adventures I had at the Fraser River Lodge in Agassiz, BC. And this is a photo of the biggest fish I ever did see in my life, or catch! And so, yeah, I guess you could say I've gone fishing. But only a few times in my life, until more recently that is.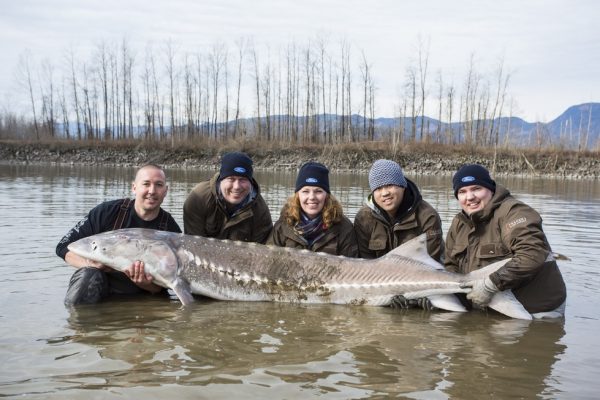 If you haven't seen that post you can read it here.
Since then, I've not posted much since last year around Halloween as there's been a lot going on and well, blogging has definitely taken a back seat to work and life in general. If you didn't know we picked up sticks and moved East to Edmonton, City of Champions! But that's not what prompted this post.
I'll full circle back to fishing in a sec, but first you're probably wondering.
"Edmonton? Really?" Yes, why not?
"Weren't you born and raised in Vancouver?" YES.
"Have you ever experienced a real winter?" Does -15 count for 15 minutes?
"Are you nutso?" That's debatable.
I know, I know…So many people have asked why move from Lotus Land to the most northern city in Canada? People here in fact, ask me all the time. And my answer is always this…
Affordability and Lifestyle is Lacking In Vancouver
What? Lifestyle sucks in Vancouver? No, I didn't mean it that way. We just felt really stuck in Vancouver.
We felt handcuffed by the cost of living in Vancouver, having to settle for Staycations when what we'd much rather do is get on a plane to escape the rain. And frankly speaking, when you start a family as late as we did, we had to make up for a bit of lost time.
Being choked with a mortgage just wasn't going to make that happen.
So while the weather is, for the most part, balmy compared to the rest of the country, you just can't put that in the bank.
So, we bought a house (with a backyard, near all the schools, and no lottery system or waitlist to get enrolled in both school and after school care, shopping… hello!! West Edmonton Mall ) in Edmonton earlier this year for less than the cost of a studio apartment in Vancouver and at the beginning of summer we packed up and left for good.
Since then we've been picking out furniture, painting, mowing the grass and enjoying settling in to our new hometown.
The Serious One is working a great job albeit new and different, so while it certainly hasn't been an easy transition in some ways, what has been easy is enjoying the extra time we have not fighting traffic and finding new adventures to go on.
One of the first things we discovered about living in Edmonton was how easy it is to get around (traffic is practically non-existent to this Vancouverite's eyes) and how close we are to some great outdoor spots. I thought we had it good in Vancouver, (25 km of expansive seawalls, shops nearby, the mountains within an hour drive) but when you only have to drive 15 minutes to the river valley, that offers endless trails and soon to be cross country ski trails that are free, hello, I don't think Vancouver measures up.
Fishing In Edmonton
It's at this point in the story if that is what this is, where fishing comes in again, funnily enough.
I'm not one to even think of going fishing unless asked to go (with a free mini vacay out of it, thanks Fraser River Lodge). Holy Hannah, that trip was mind-blowing! I had a fabulous time and helped catch the biggest fish I ever did lay my eyes and hands on.
These days, I have a bigger, better reason to go fishing and it's not to top the monster sturgeon we caught. It's all about a not so little boy.
Back in Edmonton…
OLM went to several summer camps in the first several weeks we were in Edmonton and learned to fish. He was pretty stoked to try out his new fishing pole that he was given in one of the camps he attended so we went to a recommended spot on the North Saskatchewan River, just a 15 minute drive from our house.
In Fort Edmonton Park, we dropped a line right on the river's edge and it wasn't long before a Park Ranger came over to check on us and our fishing license, which we had grabbed online that morning.
After a nice chat with him (people here are so nice) the line got snagged and we lost our gear.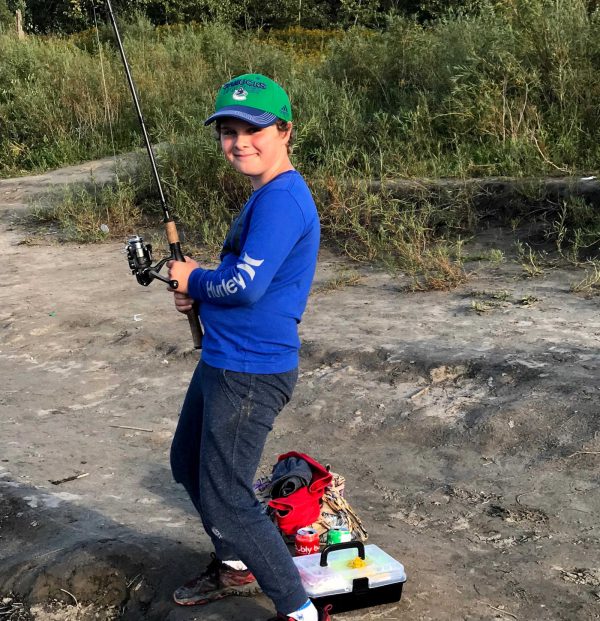 Friendly People Everywhere
Some good people helped us out by showing us what they use and offered up a weight to put on our line so we could keep fishing. We didn't have any to spare so that was nice of them. They showed us how to tie it on properly, but we noticed that their setup was way more pro looking that the measly hooks and weights and plastic worms we had.
One friendly guy told us about a shop not to far away to get advice and gear for our next time out so we cut out early and headed over there.
The people at The Fishin' Hole were incredibly helpful in getting us set up with gear. They restrung our pole, got us some fancy new leads (not expensive) and extensions, weights and frozen minnows, which OLM was instructed to sit on in the car so they would defrost before we drove back to the river, he loved that!
We didn't catch anything but we enjoyed a snack and the view.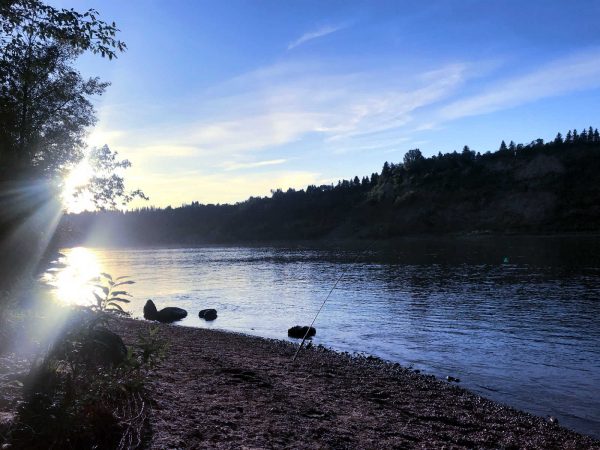 The next weekend, we found a beautiful spot in St. Albert that stocks a small lake with trout and there's a gorgeous off leash dog park for the pup right next to it.
Our first time there we didn't have any luck either, but it was really nice to hang out with OLM and practice casting, which we did more of than actual fishing.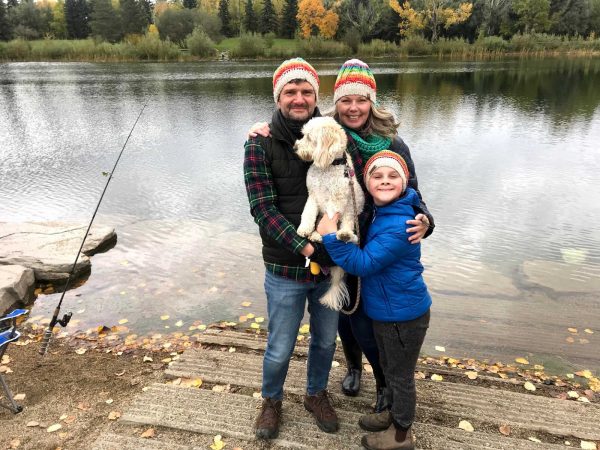 A Visit from Grandma
Grandma came to visit a week or so later and we headed to Lacombe Lake Park again and within 30 minutes OLM caught his first fish! It didn't matter that it was my pole (which I purchased at The Fishin' Hole) that snagged this beauty, he reeled it in like a true professional.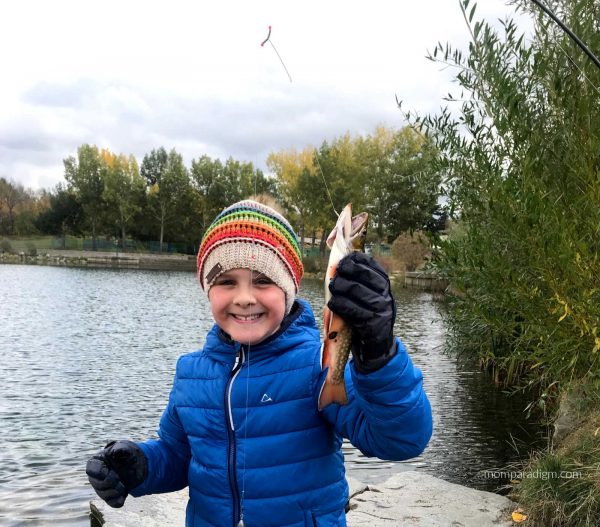 After some confusion about how to get the poor thing off the hook (we have absolutely no experience and frankly speaking, I never thought we would catch anything) we released it, promising to pinch the barbs on the hook to make it easier next time.
OLM's smile and level of excitement was so worth the hours we spent before not catching a thing, and we're getting better at sussing out good spots so as not to lose our gear again.
I am so glad that Grandma was here to witness his first catch. And if this isn't enough, I entered his photo into a Kid's Fishing Contest over at The Fishin' Hole for a draw later this month. There's still time if you're in the hood, the contest closes on October 15 2019. Get in touch with the good people there if you want to enter your kiddo.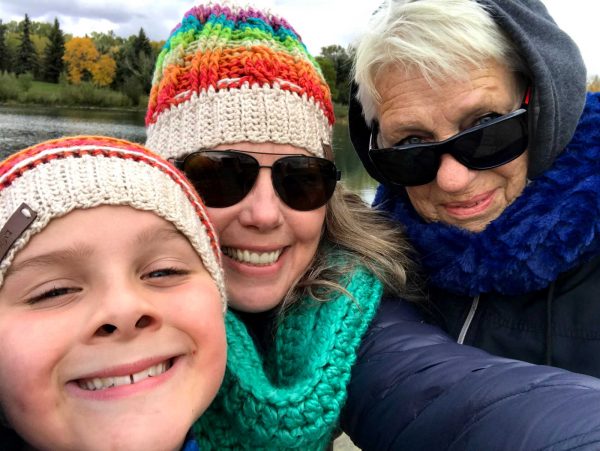 This is not a sponsored post, just a bit of fun!