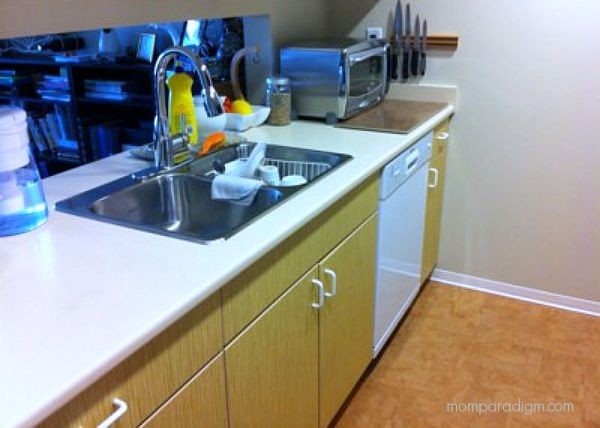 Do you enjoy a cleaning your home but have dust allergies that prevent you from getting down and dirty? Do you get all itchy and scratchy at the thought of dusting and scrubbing and would rather ignore the corners and crevices that don't see the light of day?
Me too.
Now that I am a mom (it's been five years but who's counting?) taking pride in thoroughly cleaning the home has been put on the back burner because well…sleep deprivation. I don't have to tell you that my allergies are worse than ever. It's a vicious cycle. Things gotta change.
Exhibit ONE
Just look at the state of this stove top insert thingy. I'm embarrassed to show you this photo but this post is an honest, real life review so I'm putting my big girl panties on.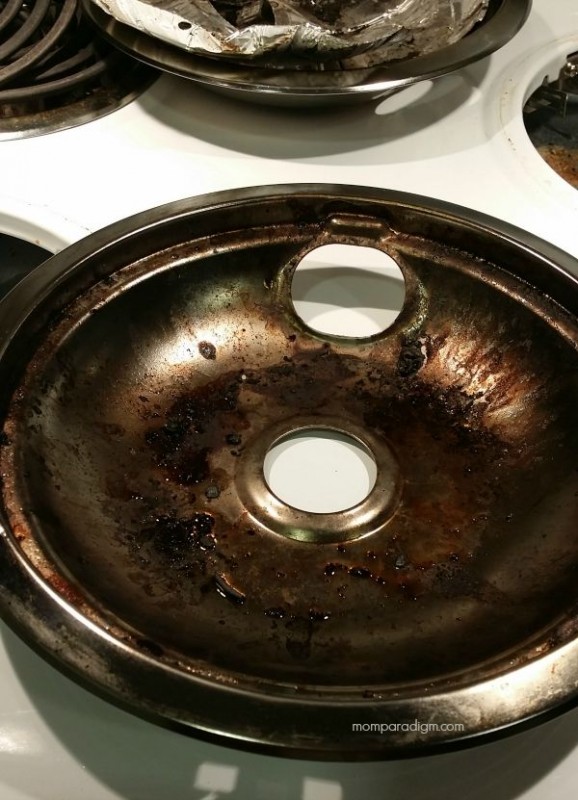 What is the product you're asking? It's called the Hoover Floormate® SteamScrub™ 2-IN-1.
"But what does a product that on the surface is for floors help me in this situation?" you say.
Stay tuned my friend. I will explain.
Dust mites and dust allergies
My aversion to cleaning has extended into our son's room, unfortunately. We do dust and vacuum his room pretty regularly but we've only steam cleaned the carpet once and have NEVER washed the curtains or blinds. Our neglect has, in part, contributed to a bigger problem because as it turns out he's allergic to dust mites, like me.
Improving the cleanliness and hygiene of OLM's sleep environment then, has been critical in getting his allergies under control. It was time to take action. And what shows up on our doorstep but the Hoover Floormate® SteamScrub™ 2-IN-1.
Introducing the  Hoover Floormate® SteamScrub™ 2-IN-1
For the past few weeks we've been pulling everything out of his closets, washing all the stuffies, bedding, giving a ton of stuff away to reduce clutter/dust magnets. And this past weekend we steam cleaned everything we could; pillows, bedding, carpet and curtains after we gave them all a wash.
The Hoover FloorMate® SteamScrub™ 2-IN-1 promises to render skin cells, bacteria, viruses, pollen, animal dander, mold, mildew 99% harmless on hard sealed floors. And those often hard-to-reach places that we lose sight of? They are no match for this baby.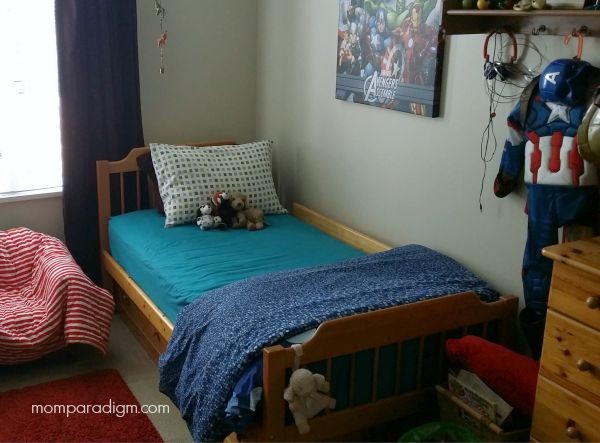 Exhibit Two
I didn't take before photos of our son's room because it looked clean. You have to look a lot closer to see the dust and well, dust mites are too small to see. So you're going to have to trust me on this. The photo above is AFTER. Our son's room is so clean even the air smells fresh!
Back to Exhibit One, the stove top insert thingy I showed you earlier. Check out this video of my mom and I giving the Hoover Floormate® SteamScrub™ 2-IN-1 a go on the stove top. And watch it to the end to see the finished result!
It's amazing how fast dirt and grunge gives in to the steam. You can just imagine all the bacteria and mold running for their lives.
The only thing I would do differently is to soak the stove top insert thingys first so we didn't have to scrub so much. The wire brush attachment took a bit of a beating but I suppose that's normal. You can buy the accessories separately and inexpensively though so it's not a big deal.
Another downside is that the steam is so hot you have to be careful where you point it!
**
I was going to publish this post yesterday but then I discovered a really cool feature that I had to tell you about.
More intense cleaning action is available at the push of a button! It activates the SteamStream™ Technology which basically means that you can target hard to reach places with a direct blast of steam.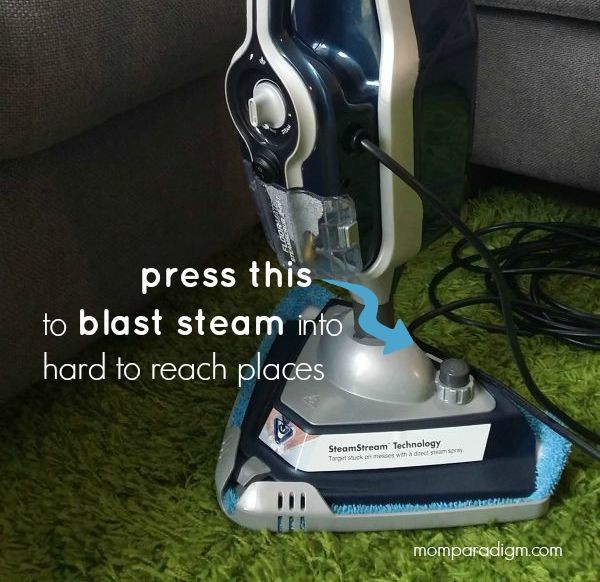 And the steam is HOT! I cleaned all the baseboards in the bathrooms AND around the toilets in less time than it takes a kindergartener to throw a fit over wearing the 'wrong' pants.
I've never seen my floors so clean and am no longer fearful about getting that nastiness scrubbed because the Hoover FloorMate® SteamScrub™ 2-IN-1 does it for me. I was so thrilled about the results that I also did the grout in the tub and the sinks while I was at it. And for me that says something. I love the feeling of clean around me even more than that, I love how effortless it is.
WARNING: The steam will remove paint, it is that hot!
Our home life will never be the same. No longer do we worry about nasty dust mites and the like as long as we have our new addition to the family. Now if it came with a butler we'd be set for life.
Thank you Hoover for the opportunity to test out this fabulous product. We are so grateful and are sleeping better knowing we are doing our best to keep our home clean with your help.
More about the Hoover FloorMate® SteamScrub™ 2-IN-1
The dual-purpose unit revitalizes both hardwood, carpeted, and other household surfaces to remove even the most stubborn set-in stains with SteamStream™ Technology.

The lightweight design (8 lbs) and detachable Lift-Away Steamer option, allows you to steam any hard to reach surface with hand-held convenience.  Complete with 12 additional tools and accessories, including the Tile & Grout Scrub Brush, Upholstery Cloth, Steam Connector Hose, Carpet Glider (and more!), the SteamScrub™ 2-IN-1 can tackle any stain or surface!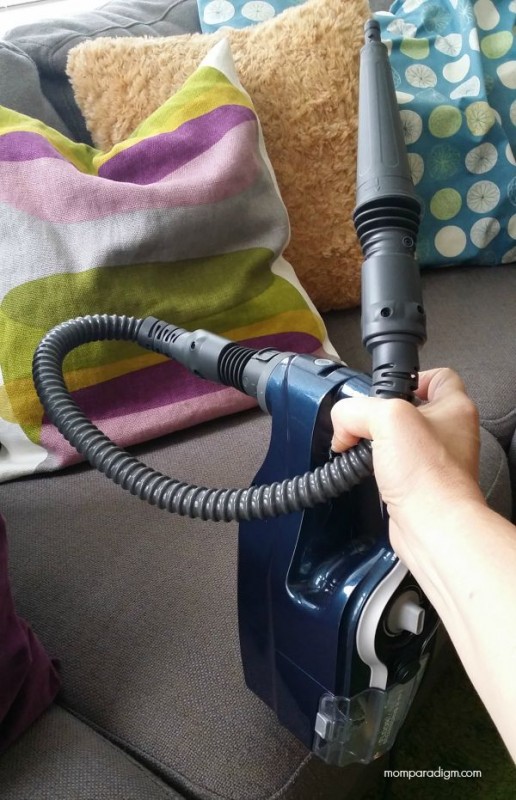 Hoover offers features like Fast Heating Time, and Trigger Controlled Steam, to take the hassle out of household cleaning tasks. The Trigger Controlled Steam function, gives you control over steam strength according to the surface. Both features accelerate cleaning time, helping you get the job done faster!
After reading this post and watching the video I know you'll want to get your hands on this baby.  You can purchase the Hoover FloorMate® SteamScrub™ 2-IN-1 at Hoover.ca.
Disclosure: I wasn't compensated for this review however I was given the above product to test and review. All opinions are, as usual, my own. This post contains affiliate links.