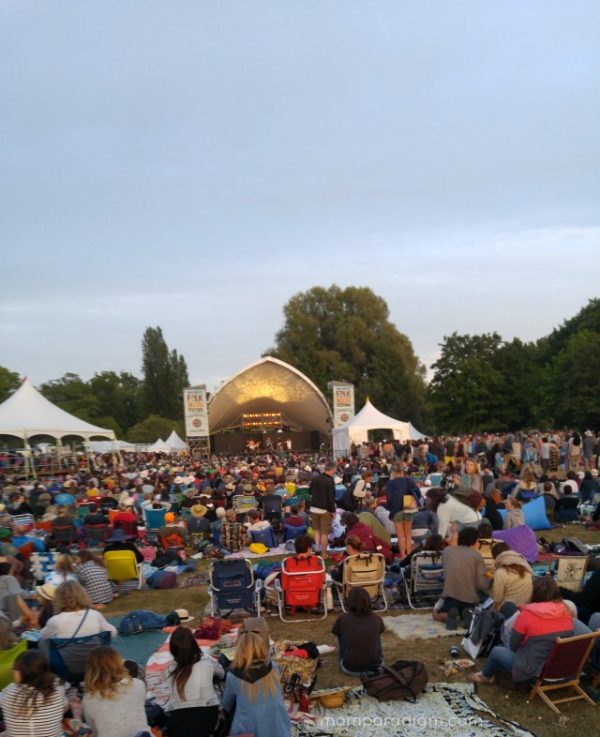 What a weekend! It's Wednesday today, a full three days after the Vancouver Folk Music Festival wound up and we're still pretty exhausted, in a good way. It didn't help that the boys have been sick with pneumonia for the last two weeks and this mama was at her wits end. The Folk Fest weekend couldn't have come at a better time as we could relax and go at our own pace.
Thankfully, the Folk Fest is a very chill event. As I mentioned in my previous post, there are plenty of good napping spots to be had but we were so busy taking it all in that we didn't get that luxury. And when I say busy, I mean, eating, drinking, shopping, listening to amazing bands, and hanging out in the Little Folks Village.
2017 Vancouver Folk Music Festival Highlights
Eating
The variety of food trucks was a pleasant surprise this year. Having recently cut out meat, eggs, and dairy from my diet lately, I was pleased to find quite a few sources of healthy and delicious vegan food. The prices were fairly reasonable, no gouging here which is a nice treat.
El Coroto Kitchen's grilled hemp and flax seed arepas filled with black beans, plantains, or squash were heavenly and according to my friend, the dude serving them up was pretty ethereal too. Find them on Facebook here.
Culver City Salads was serving up an amazing selection of salads (quinoa, rice and noodle), grain-free salad. Find them on Facebook here.
Dim Sum was the staple for OLM at the festival. He just couldn't get enough of the shrimp dumplings and BBQ pork buns. Not all vegan but all good.
Oh and the vegan chocolate ice cream from Earnest? God bless you. It was to die for. Find them on Facebook here.
Of course, there was a lot of comfort foods too. Pierogies, barbecued corn on the cob, pizza and the like.
Drinking
Beer, cider and wine was plentiful in the Big Rock Brewery beer garden. I'm actually not sure if kids were allowed in as I never had the need to plop OLM down but I did see a few littles in there so maybe it's ok. I think that kids should be allowed but with nowhere to run and play it might not work for long. The tables were jammed in pretty tight making for a cozy atmosphere, however.
Six bucks will get you a freshly poured draft beer, a much-needed reprise from the heat. The lineups got pretty long sometimes but moved fast. If you paid by credit card you formed a much shorter line. Anyway, standing in line wasn't so bad as there's stuff to do like chat, people watch, you know… Find Big Rock Brewery on Facebook here.
Our favourite coffee truck was there too, Milano which is the same company that owns Turks on Commercial Drive. Again, no gouging here. Find them on Facebook here.
Shopping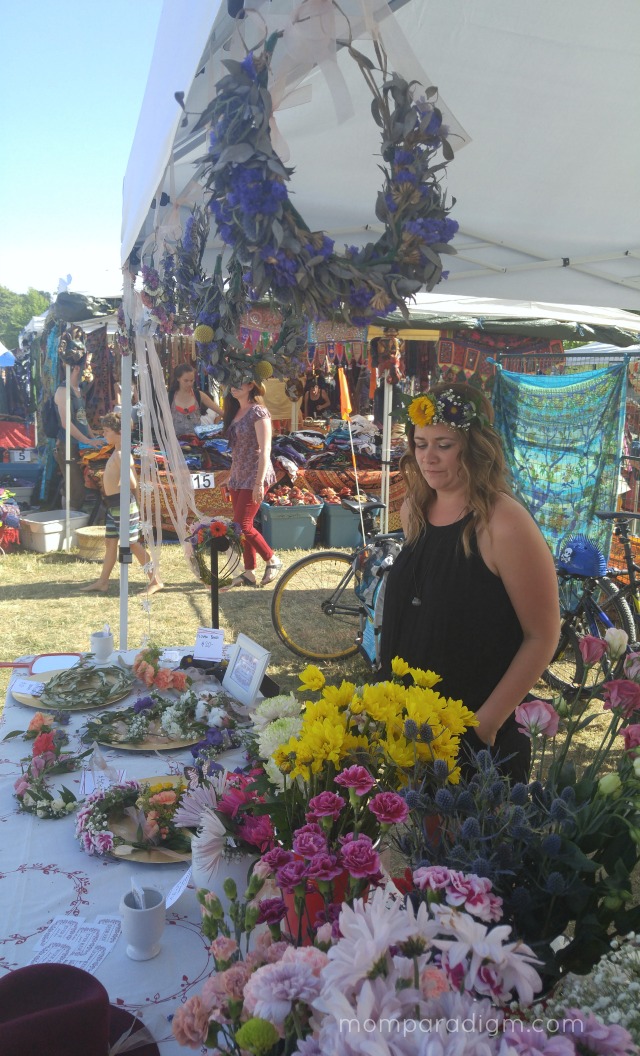 This was the first year we took in the Artisan Market and Folk Bazaar. Open to the public, it is filled with really interesting works and lots of festival clothing, if you want to call it that. You can tap into your inner hippy here, with flower wreaths for your hair or hat. I encouraged a 20-something hottie to get down with the genie pants he was eyeing. No judgments here. I love a guy who is comfortable enough with himself to wear women's pants.
The People
This festival is a people-watching mecca for me. You see all sorts, including said hotties. I love the mix of the crowd, the old, the very young and the in betweens. And everyone is so chill. You never see fights breaking out or drunkeness really. Now the guy walking around with a book on his head the whole weekend? Not sure what's going on there. But whatevs. I wish I had taken a photo but well, I didn't want to seem like an admirer.
Little Folks Village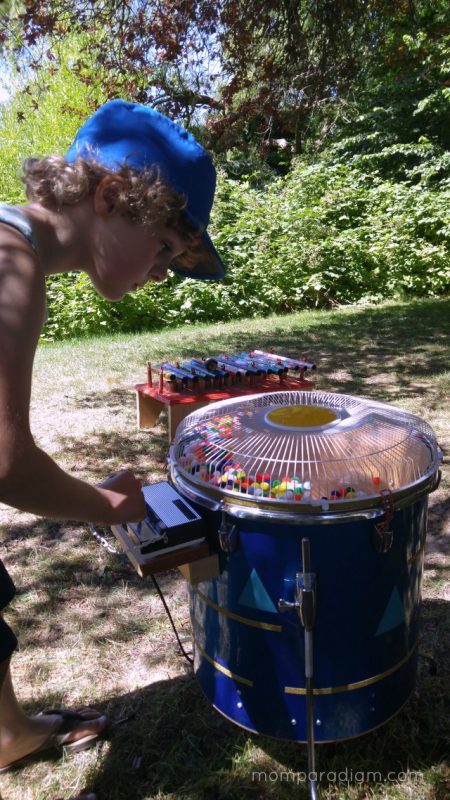 We spent a lot of time in the Little Folks Village and it surely didn't disapppoint. It was so nice to see OLM completely absorbed in all it had to offer.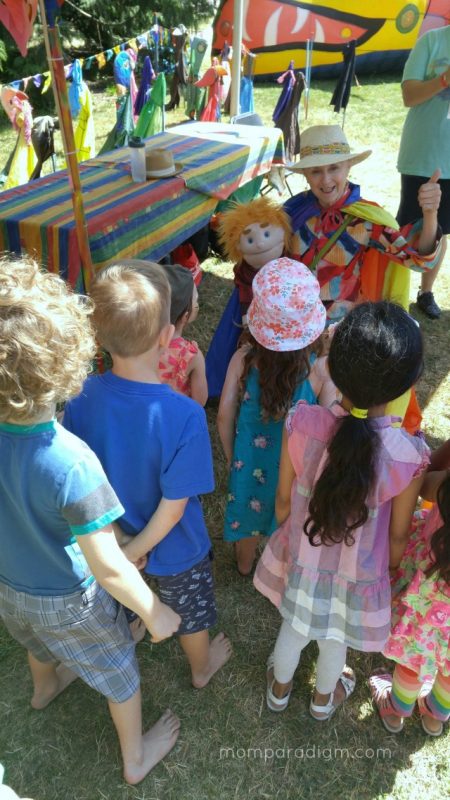 From a costume parade to storytime in a big inflated dragon, to crafts and a musical playground and drumming circle, it really was fun. Even for us old folks.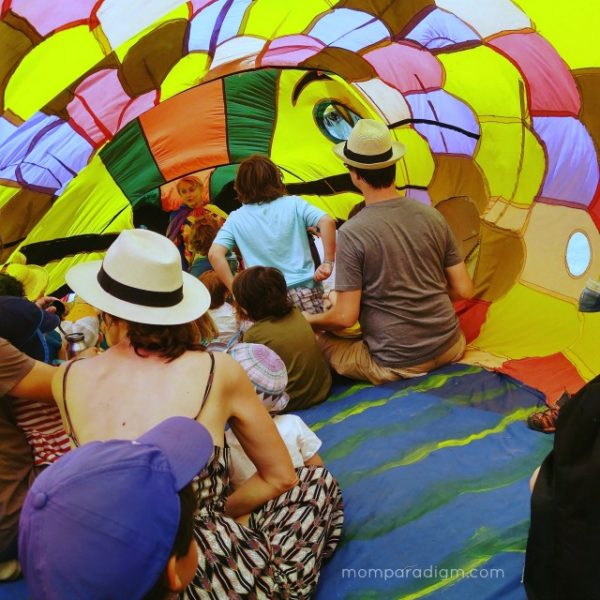 Music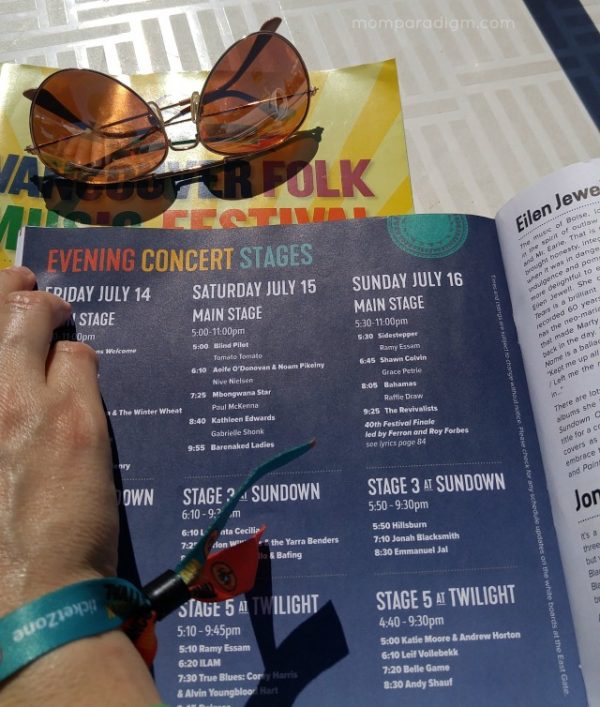 What can I say? We were so thrilled to be part of the thrumming crowds during big acts like The Revivalists and the Bare Naked Ladies. We also discovered a few new-to-us bands too. Jonah Blacksmith from Denmark, Kathleen Edwards, Bahamas and more. You can check out the full list here .
The Best Event of the Year
One of the best features, if you can call it that is how well organized and clean the Vancouver Folk Music Festival is. You won't see garbage on the ground, they've got recycling down to a science, the porta-potties are well maintained and for the most part not too stinky and there is fresh drinking water for everyone. Just bring your water bottles.
This is the best event of the year, hands down. Even though we won't be seeing the festival for another year, it's worth noting that it is the best place to take kids in the summer in Vancouver. So keep that in mind when you're planning your summer vacation next year.Be here in Vancouver for the Vancouver Folk Music Festival next year, July 13-15th 2018. Mark your calendars!
Make sure you're in town for the Vancouver Folk Music Festival next year, July 13-15th 2018. Mark your calendars.
Thanks for reading!