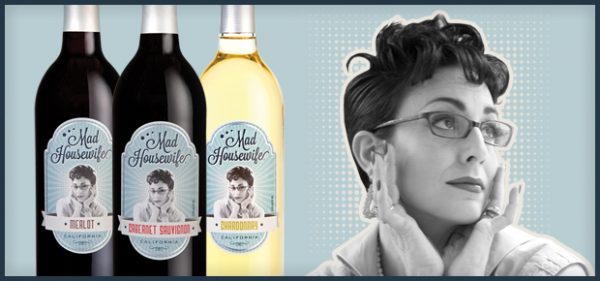 What's domestic bliss without a little wine, you ask? Wait, did you ask? Oh nevermind. One downside about blogging is I confuse actual conversations with other people with those I have. All. By. Myself. Shudder…
Kind of like dreams.
Like that dream I had about a six-year-old boy who lives in my house who…oh wait. That's…real..
Yeah so, back to bliss or the lack thereof. Kidding people! I'm fine, really…
Domestic bliss can be had in many ways. There are some who get off on sparkling floors and windows or clean and tidy drawers but I prefer the little sparkle in my step I get from the 'crisp and tasty chardonnay in my glass' kind of way.
Domestic Bliss in a Bottle
I found Mad Housewife Chardonnay, a California import, at our neighbourhood liquor store. I have to admit I chose the wine because the label made me laugh and for a moment I was feeling warm. And very fuzzy. 
At $22 this addition to Cheap Wine Finds isn't that cheap. I normally cap it at $20 but I had to make an exception because, label! So I'm calling it Cheap-ish instead. It's perfect for those especially blissLESS days or for a 'cheer someone else up kinda day'. You can send via Purolator, they have my address on speed dial so don't be shy.
No Guilt. All Good. 
Not feeling guilty about indulging (without overdoing it these days guys as I'm hitting middle age officially very soon and the days of drinking more that three glasses of wine are long behind me.) is my life's motto these days. Or at least I'm working on it. And I love the retro look of the brand although I know that I will never, ever be her.
Now that I've savoured a bottle or two I wanted to share it and the philosophy of Mad Housewife Cellars with you. Because. Fun!
Here's what they say.
'Above all else, wine should be fun, relaxing, and something you can afford to look forward to at the end of each and every day. This is your time. Time to enjoy a moment to yourself. A moment without the madness. 
Wine should never intimidate, make you think too hard, or create a new line 
item in your budget.'
"Flavors of melon, pear and Fuji apple abound. Hints of cinnamon, light toasty oak, and a creamy finish make it the perfect choice for dinner, fun events, or a simple moment to yourself."
Here's what I say.  
Lovely and smooth, not too sweet or dry with a nice aftertaste suitable for drinking alone (or with friends), with food or without. Just don't drink any wine on an empty stomach or you won't get a chance to savour it before you get sloshed.
Share it with Friends
As it turns out, Mad Housewife Chardonnay was a great gift choice for that special mama in my life. We both had a laugh and enjoyed the body buzz from half a glass of this stuff. Not that it's moonshine or anything people, it's just lack of tolerance.
So if you want to give a cheap-ish and fun bottle o' wine to your best girlfriend, this is the one. Just don't give yourself away by telling your friend that you read this post. Wait a minute! Please, please do tell them!
And finally, I love a wine that is balanced just like I like my men. Errr…I mean my man.
Do you feel the domestic bliss yet? If not, go get yourself a bottle and then tell me what you think!
Disclaimer: I was not compensated for this post at all. I just love *ahem cheap wine.