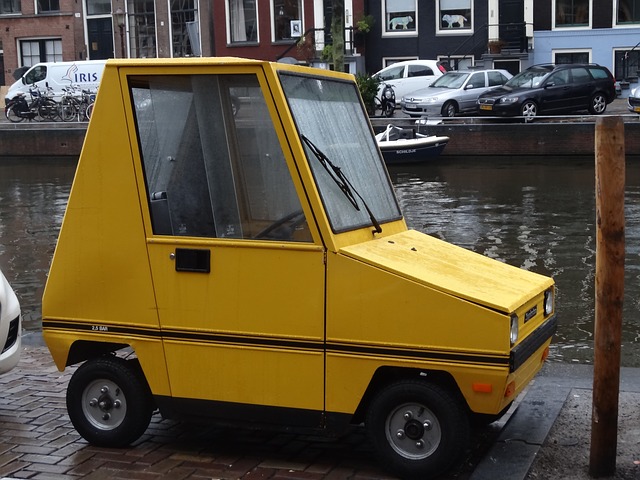 When the yearning to hit the road for a long weekend getaway starts with 'okay so… how are we going to cram all this stuff into our tiny car' and leads to 'we'll have to rent a truck so we can see out the windows!', road trips don't happen very often.
Okay, okay. Our car isn't quite as small as this one but it sure feels like it. It's a Kia Soul and isn't great for extended trips for a family of three. It's ok for city driving but take her out on the road for any length of time and its not long before we feel cramped for space and perturbed at the high fuel costs.
We purchased it just seven years ago but since then green technologies related to cars has shifted dramatically. As much as we love her and appreciate her years of service, she's a gas-powered hog with nothing more technologically advanced than onboard Bluetooth that only works half the time. And she's falling apart, poor thing.
Yup. Our poor car is aging fast.
Is there such a thing as calculating a car's age relative to dog years? No matter as it wouldn't change the fact that it's still a tiny, gas-sucking polluter.
So yes, we've considered buying a new car. And yes it will definitely be a meaner, greener machine. But where to start? With all the choices out there it's tough to know which one would suit our family the best.
One thing I know for sure? Our next car will be a hybrid.
Hybrid is the right choice for our family
Hybrid seems like the right choice for our family's needs. But up until recently, hybrid cars haven't really been bigger than an SUV for us to take the leap. And while electric cars are amazing for short trips in the city, they won't get us very far. If we want to travel back roads BC or better yet across Canada! it's not practical as we'd have to stop every 50km nevermind the lack of charging stations.
So what to do? Well, I recently got wind of a new kind of hybrid that's making me rethink our situation. It's not only spacious, it's beautiful, technologically advanced (woot! #techgeek here!) and apparently the most fuel-efficient MINIVAN ever. What? I know. I never thought I would utter the minivan word.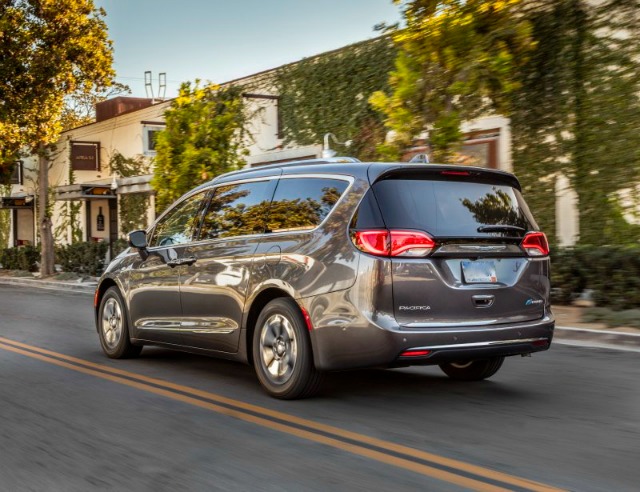 Shut the front door! Or rather choose one of the two hands-free sliding doors or the liftgate. No wait, that opens and closes by itself. Anyhoo…Here she is. Isn't she gorg? I always judge a car by its rear end, don't you?
The 2017 Chrysler Pacifica Hybrid
Please check out the video below of the 2017 Chrysler Pacifica Hybrid and take note of what you like best about it. Is it the rear end for you too? Oh, baby.
By the way, I would so love it if you'd share this post with your friends. I know, I know, it's an advertisement, however, I would never ever publish anything on this blog if I didn't believe in it or want it for myself.
[Tweet "This #gorgeous hybrid minivan is perfect for long weekends and city driving too. Love love! #ChryslerPacifica #family"]
Sharing is easy, my friend! Just click on the Twitter link above. Or scroll down to the bottom of this post for your favourite social media platform. Thanks so much!
More about the Chrysler Pacifica Hybrid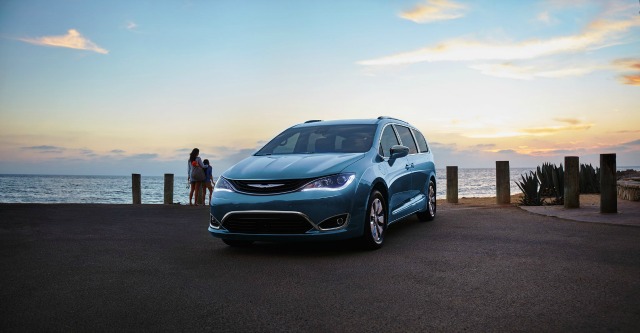 Exceeds target performance, achieves 2.6Le/100km (109 MPGe Imperial) City Rating
2017 Chrysler Pacifica Hybrid's 2.6 Le/100km city fuel economy rating in electric-only mode is new benchmark for minivans
Energuide Canada ratings surpass anticipated performance numbers for fuel economy, total driving range and electric-only driving range
e-Flite EVT technology key to efficiency of all-new minivan; distinguished by dual-motor/one-way clutch strategy
Made-in-Canada 2017 Chrysler Pacifica Hybrid starts at $56,495 MSRP, less with Provincial rebates. Find them HERE.
Check out Natural Resources Canada. It made the list of most fuel-efficient vehicles!
Disclaimer: I was compensated for showing you this video advertisement. It helps pay the bills and keeps this blog rolling.
Follow Chrysler Canada on Social Media