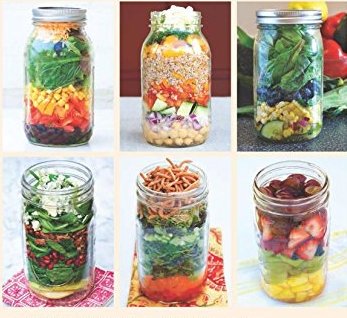 I received a copy of Mason Jar Salads and more by Julia Mirabella to review this past summer and was intrigued by the numerous ways to make lunches more fun and healthy. I didn't get the chance to fully appreciate the book until now however with all that's been going on over here.
I don't work outside the home but I am not immune to the blahs of a desk lunch. It's not uncommon for me to either skip lunch or eat late when I'm writing. And that is not a healthy habit I want to keep. So, with a fridge full of healthy food options it's just a matter of getting organized to make better choices.
My review of Mason Jar Salads and more.
First off, this book not only has salad recipes, but it also has fresh smoothie and oatmeal recipes for breakfast, pasta salads that you could easily warm up, soups, snacks and lovely vinaigrette dressings that are delicious and healthy.
When you assemble salads in a mason jar, I've learned that layering is important to make sure that some ingredients remain crisp while others have the chance to soak in the dressing you are using. And, because you can make the dressing right in the mason jar before adding the rest of the ingredients, you don't need an extra container as it stays at the bottom of the jar. It's not only brilliant, it saves time and the mess of extra dishes when preparing.
Pack healthier lunches for your family with Mason Jar Salads and more
When I cook dinner I usually make enough for lunch the next day and this book is pretty much in line with my thinking. And when the weather turns cold, I love to make risottos, especially those with mushrooms. I was excited to see three risotto recipes, including porcini mushroom and will make a point of making it for dinner tonight! I think OLM (that's Our Little Monkey who's 4 years old) will like it too.
I love the convenience factor of mason jar salads too. Once you've assembled your salads, making sure that for the most part you've really packed your ingredients to minimize the air allowed inside the jar, they will keep for several days. So, you can make up a good number of jars ahead of time for a quick grab and go in the mornings.
Storing your ready-made lunches in mason jars is also preferable to plastic and allows for portion control. 
The first recipe from Mason Jar Salads I've tried myself is 'oats and fruit in almond milk' on page 29. Rather than cooking the oats, they get soaked in almond milk in the fridge overnight. It is just so easy!  You can eat the oatmeal cold if you like although I prefer it hot, especially now. The fruit gets nice and sweet when warm which means you may use less sugar.
And finally, there are plenty of tips that help explain how to assemble your ingredients, the tools you'll need and why the mason jar is the perfect vessel for your creations.
GIVEAWAY
We are giving away THREE copies of Mason Jar Salads and more to THREE lucky Mom Paradigm readers! Just fill out the Rafflecopter form below. For extra entries leave a comment!
This contest runs until MIDNIGHT on Jan 6th.
If you'd like to purchase this book for those on your list, just click on the link below. Make sure to get one for yourself too. You'll be disappointed if you didn't.
Mason Jars Salads and more is part of the 1st annual Holiday Gift Guide on the blog! Check it out on Dec 1st when it goes live.
About the Author
Julia Mirabella grew up in a household that emphasized Italian food and taught her to love cooking with fresh ingredients. When starting her first job as an attorney, she realized she needed to rethink her work lunches and started making Mason jar salads as a way of eating better. You can follow her blog at myfoodandotherstuff.com. She lives in Washington, D.C.
Thank you for reading.